A Salute to the Beef Stick Lady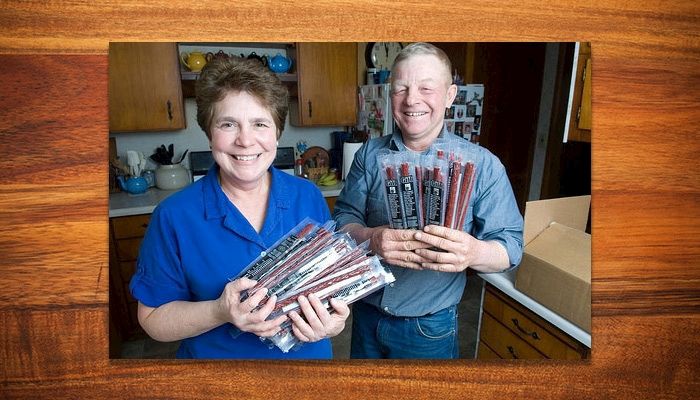 I was sitting at my computer, waiting for some divine inspiration to help me finish writing another story by deadline, when I received a call from one of my favorite Farm Bureau members.
Yes, I know I shouldn't play favorites. After all, I've met hundreds of wonderful, kind folks during my 10 years as a farm writer for the Iowa Farm Bureau. But it's hard not to have a soft spot for Dee Ann Paulsrud, a cattle farmer from Danbury in western Iowa, who has become known as the Beef Stick Lady.
From their farmhouse kitchen Paulsrud and her husband, Ted, run "Beef'n Up the Troops," which ships free Iowa-made beef sticks to our troops serving overseas. Because of their hard work and generous donations from others, the Paulsruds have been able to send more than 75,000 beef sticks to troops serving in Iraq, Afghanistan and other overseas military bases during the past three years.
"Maybe it's our age or where we are at in life, (but) we want to give something back to society and not always be people who take," Dee Ann says. "And those soldiers are protecting my freedom so I can celebrate the holidays with my family."
Beefing up the troops hasn't been easy. To keep costs down, the Paulsruds spent months stringing together a network of volunteers, including Sioux City's 185th Air Refueling Wing which happily transports the beef sticks around the world for free in lumbering tanker planes.
But, it's been worth it, especially knowing that soldiers appreciate the tasty gifts straight from the Iowa heartland. Dee Ann keeps a scrapbook packed with notes and thank-you cards from soldiers. The Iowa-made beef sticks are great, the soldiers say, because they don't melt in the hot sun or get crushed in piles of gear. And, most importantly, the soldiers say the beef sticks are a reminder of home as they serve in a far-away land.
Many of the donations and cards from soldiers simply come addressed to the Beef Stick Lady, a nickname Dee Ann says she's proud of.
As long as the donations keep coming, Ted and Dee Ann say they will continue sending the beef sticks to the troops.
This holiday season please send a donation to Beef'n Up the Troops. Send your donations to: Ted and Dee Ann Paulsrud, 4980 320th St., Danbury, IA 51019-8505 or call
712-883-2249
. To save on delivery costs, the sticks can't be sent to an individual soldier unless other shipping arrangements are made.
Written by Teresa Bjork
Teresa is a features Writer for the Iowa Farm Bureau.