50-state road trip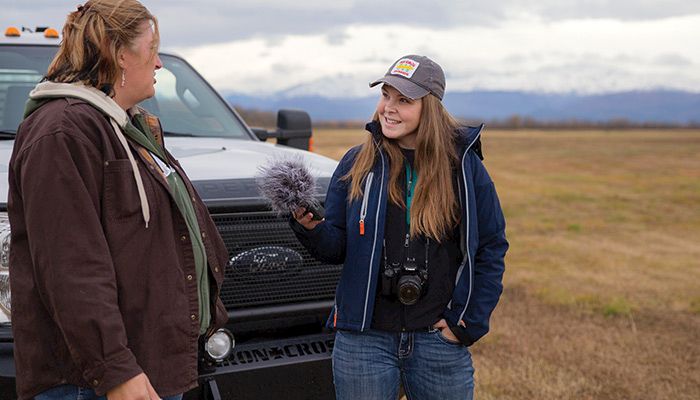 When Natalina Sents graduated from Iowa State University (ISU) last May, she decided to follow her dream of taking a year off to travel all 50 states.
But her goal wasn't to visit famous landmarks and take selfie photos. Instead, the ISU agribusiness grad wanted to visit farmers across the country, sharing their stories on social media.
Since embarking May 15, a week after graduation, Sents has met more than 70 farmers in 25 states along the East Coast, the Upper Midwest and as far away as Alaska for the Beck's Hybrids "Why I Farm" road trip.
During her journey, Sents has gotten lost driving down gravel roads that are miles away from anywhere. She had to reschedule a farm visit when a herd of alpacas got loose in New Jersey. And she has sat at countless kitchen tables with farmers, sharing laughs and sometimes cries when they start talking about their family's farm legacy.
"I'm just out there to honor farmers. I appreciate what they are doing," said Sents, who was back in Iowa to visit her family in Columbus Junction over the Christmas holiday.
"I knew I wanted to dedicate my career to telling farmers' stories," Sents added. "And most of them all agree that there are just not enough people out there sharing the story of agriculture."
Growing up in southeast Iowa, Sents didn't live on a farm, but she's always had a passion for agriculture. As an FFA student, Sents started her own garden and sold local produce at the Columbus Junction farmers market.
While at ISU, she interned at Beck's Hybrids, where the marketing staff developed short online videos to showcase local farmers.
Sents said those videos inspired her to start her own journey to share the story of farmers not just from the Midwest, but from around the country.
Now everyone can follow Sents' road trip on Beck's "Why I Farm" website, at www.whyifarm.com, which also features the original farmer videos that inspired her trip.
Sents started her journey last spring, driving her lime-green Ford Fiesta to the East Coast. She plans to travel down to the Gulf Coast states, California and Hawaii this winter, before driving up to the Pacific Northwest for the final leg of her journey.
"I always have to be mindful of where I need to be going next and what the weather in the area might be and how (farmers') schedules might be changing," Sents said.
"The favorite thing to do in New England is to give you landmarks that aren't there anymore. They were there for 200 years, but they don't exist anymore. So when they say turn by the giant red barn, make sure that giant red barn is still there," she added.
Sents checks in with social media and state Farm Bureaus and departments of agriculture to find farmers to meet. So far, all the farmers Sents has reached out to have agreed to meet with her and share their family's story.
"I didn't anticipate — although I should have, because farmers are wonderful people — all the hospitality," Sents said. "I've had farmers say why don't you stay for dinner or we're having a barbecue tonight, just hang around. They've even let me stay the night. It's pretty wild."
And by design, the "Why I Farm" road trip showcases a diversity of farms. Sents has met with organic farmers in Minnesota, beekeepers in New Jersey and a cattle rancher in Alaska, to name a few.
Sents said she has discovered that farm size is relative depending on the landscape and the type of crops or livestock.
In Iowa, Sents visited with Erin Brenneman, whose family owns and operates a large-scale hog farm in southeast Iowa.
"They grow out thousands of hogs, and some would call her farm a factory farm, but I can say I've been to her barn. Each (baby) pig is cleaned off and dried by hand and shown so much love. It was awesome. Not a factory farm at all — no gears, no conveyer belts, whatever people are trying to paint the picture to be," Sents said.
Yet farmers — no matter where they live or what they grow — also have the same motivation, Sents said. "They want to take good care of their piece of this earth and carry on their family's legacy and be involved in the community," she said.
And farmers also share the same values as all of us who buy the food they grow and raise, Sents adds.
"Farmers just want people to know, hey, I'm a mom or a dad too. I go to the grocery store just like you. I go to my kids' t-ball games just like you. I also never feel like I'm caught up on laundry," Sents said.
"Their job just happens to be growing your food and raising your fuel or harvesting the cotton your shirt is made of. And they're available if you have a question...," she added. "I'm hoping this project is putting a face to farmers and helping people see that."