5 Reasons America Needs Farmers (ANF), Hand-Picked by Americans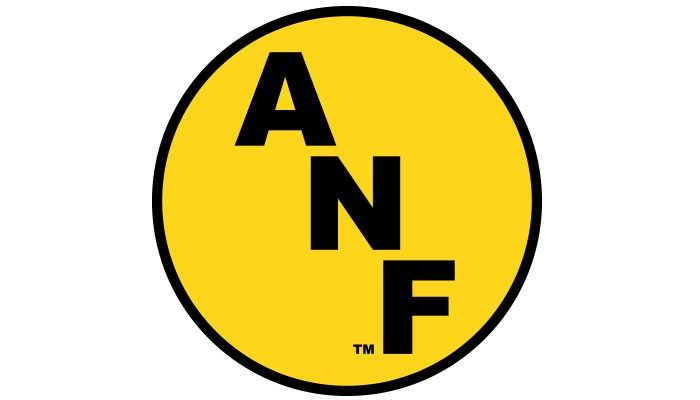 Why do you need farmers?

You probably don't farm (only 2 percent of Americans do), but I'll bet you can come up with a reason or two.

Leading up to the fourth annual America Needs Farmers (ANF) football game, November 1 at the University of Iowa, we asked you to share the reasons you need farmers, and we've heard from more than 1,000 people in 27 states (and one from Canada)!

Why do Americans need farmers? Here are the five most popular reasons, picked by you!

5. We need food choices.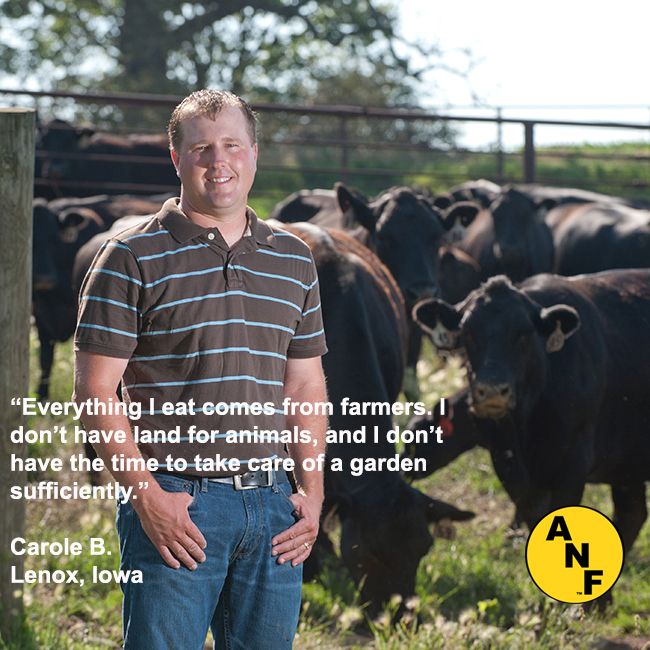 "I love fresh vegetables and fruit, and farmers are such a vital part of our agriculture and economy."

Shelby R.

Saluda, North Carolina
"I need farmers because I like to make my own food and usually buy my food from local farmers markets."

Julianne K.

Placentia, California
"I have celiac disease, so the farmers that produce white corn are very important to me; I need, for example, corn tortillas instead of wheat. Also, meat is a huge part of my diet, as I am not able to eat many processed foods. Beef and pork are on our table almost every day."

Stacy M.

Postville, Iowa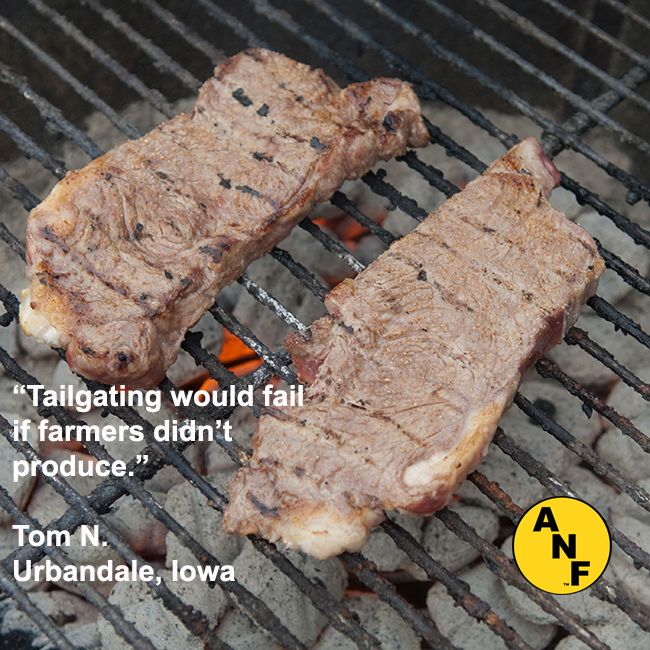 4. We need good jobs.

"Farmers feed the world; it's that simple. Also, they give me job security. I work at Kinze Manufacturing."

Dustin C.

North England, Iowa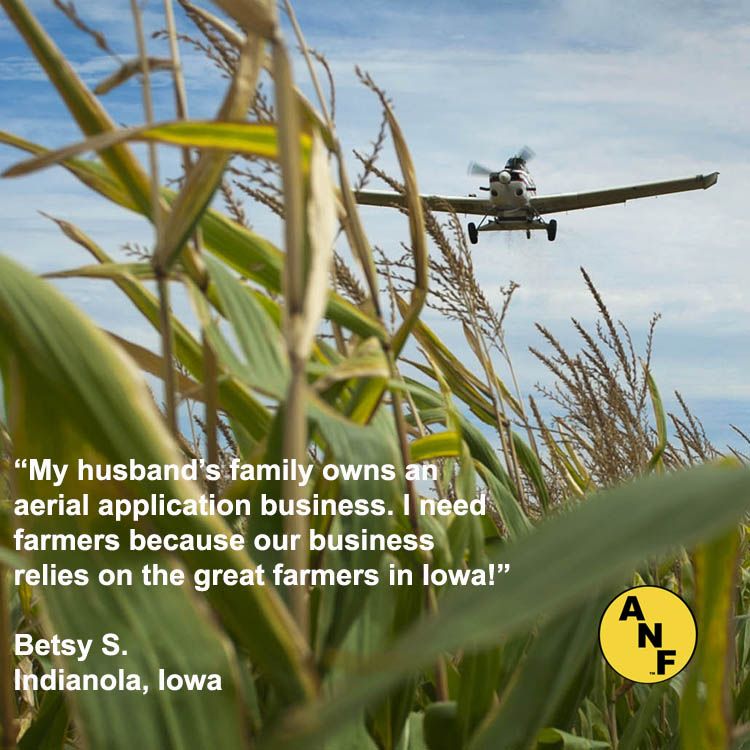 "As an electrician, agriculture is a large part of my livelihood."

Brian P.

Dyersville, Iowa
"I need farmers because they are the ones providing me with my trucking job so I can provide for my family."

Bobby J.

Eldora, Iowa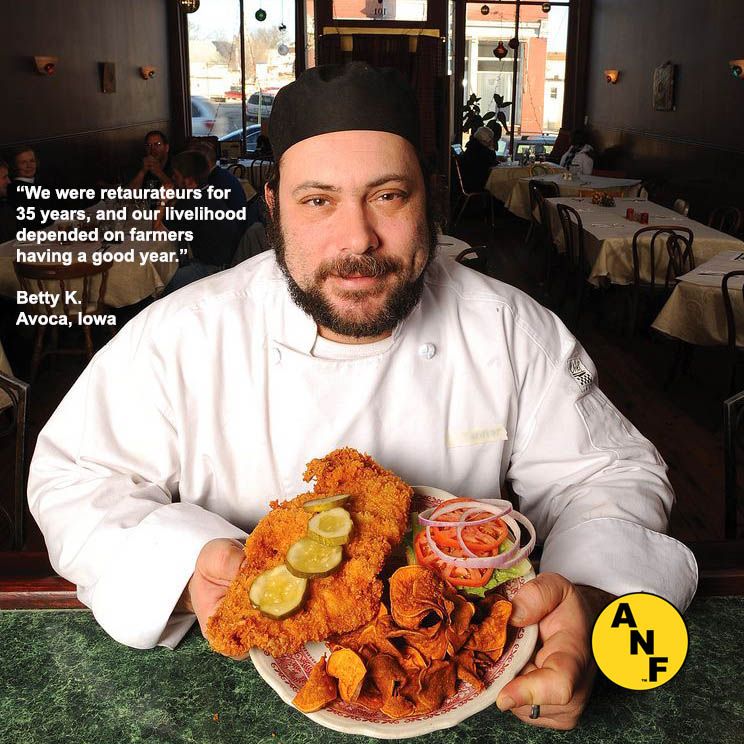 "I worked for John Deere for 33 years and without the farmers, I would not been able to support my family."
Larry M.
Ankeny, Iowa
"My husband and I both work in the agriculture factory business. I build grain dryers, while my husband makes grain carts and sprayers. We need farmers to keep our jobs strong."
Steph H.
Hampton, Iowa
"I am an economic developer in the heart of ag country. My livelihood depends upon it."
Mark G.
Orange City, Iowa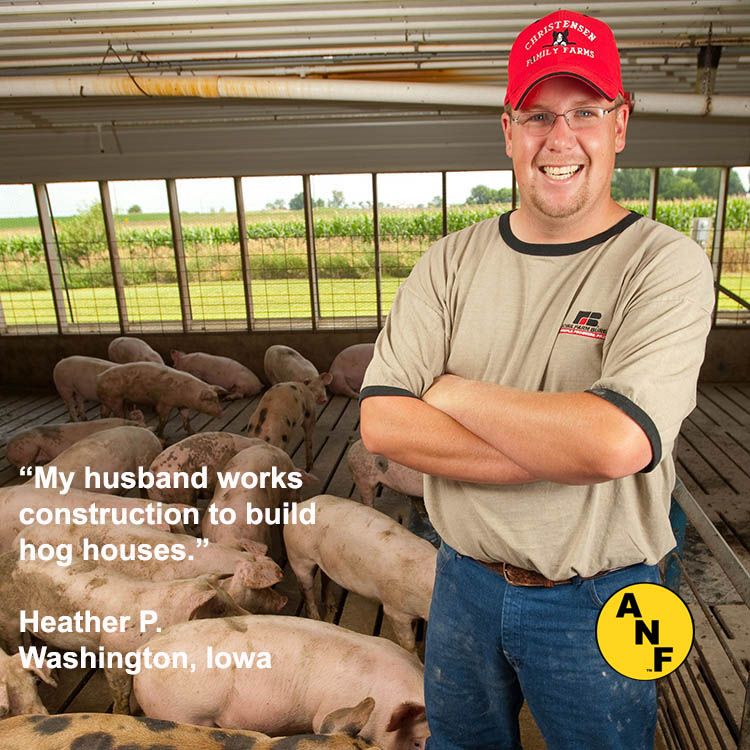 3. We need caretakers for the land and the environment.
"Our farmers are conscientious about food safety, water quality and soil conservation. Because of this, we will continue to enjoy a reliable supply of food products for generations."
Debra J.
Storm Lake, Iowa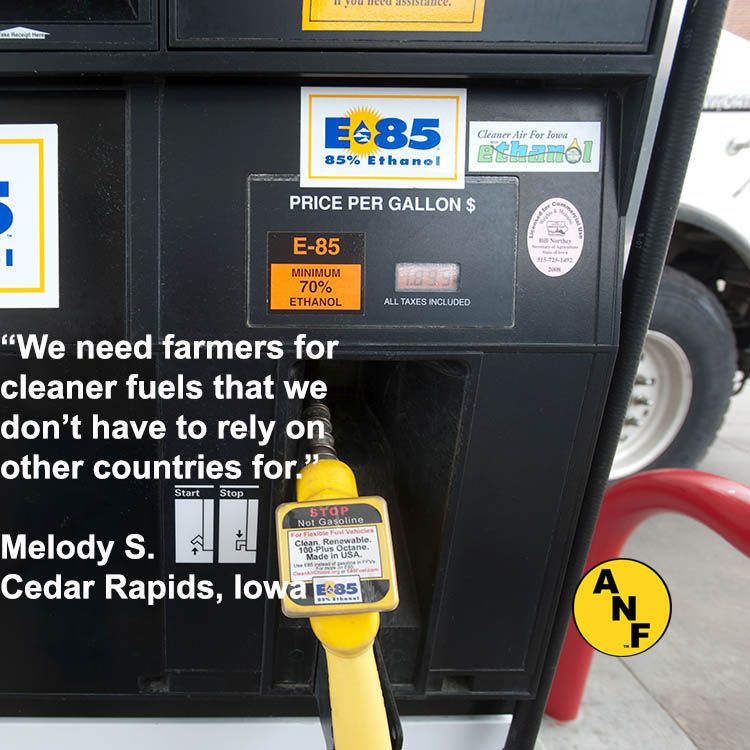 "Farmers contribute to our health, environment, and economy…Farmers use technology to yield larger production and do so in an environmentally-friendly way."
Lisa T.
Washington, Iowa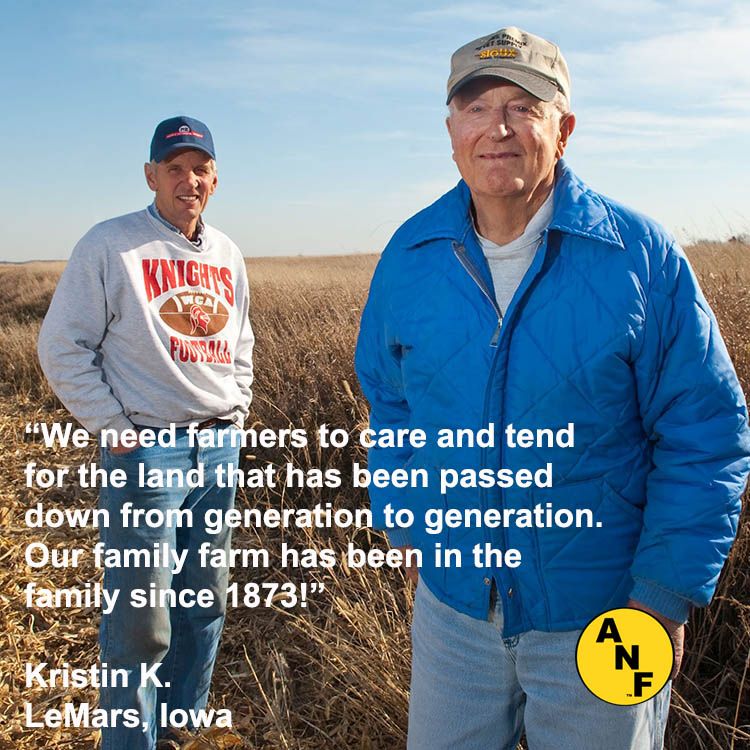 "I strongly believe we need farmers to help our youth understand the importance of conserving, nurturing, and respecting our land. Farmers bring out the best in understanding how to use the land to yield plentiful bounty to feed our world."
Steve S.
Altoona, Iowa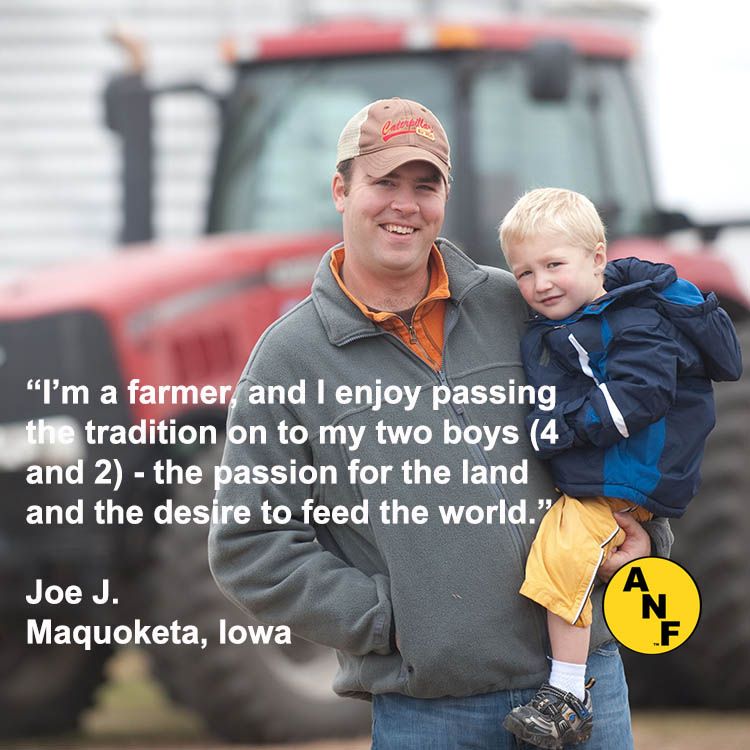 2. We need strong rural communities.
"I live in a small town in west Tennessee, and farming is a huge part of this area! I need farmers to help keep my hometown and surrounding areas successful."
Meagan H.
McKenzie, Tennessee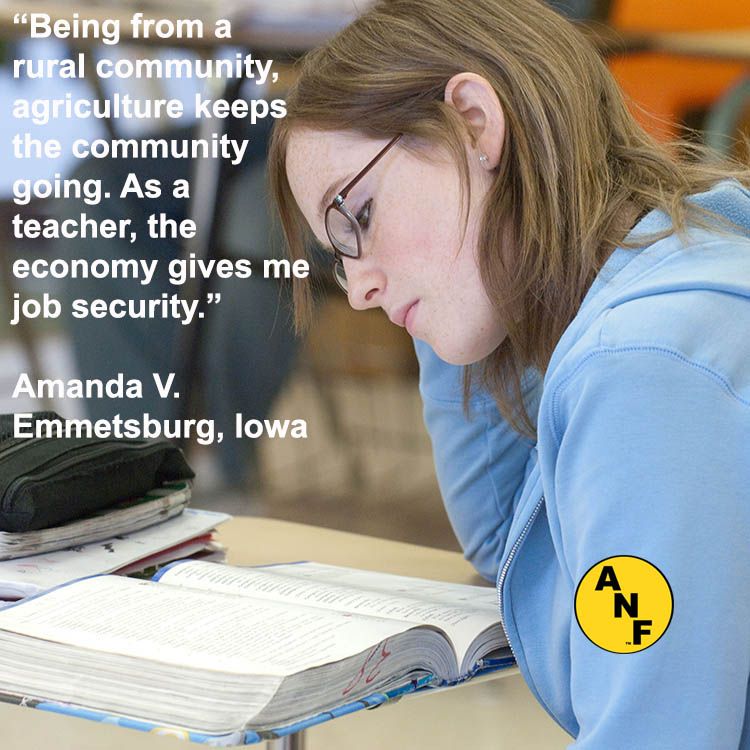 "[Farmers] bring love and provide food to small communities, and friendships that last a lifetime."
Catherine C.
Park City, Utah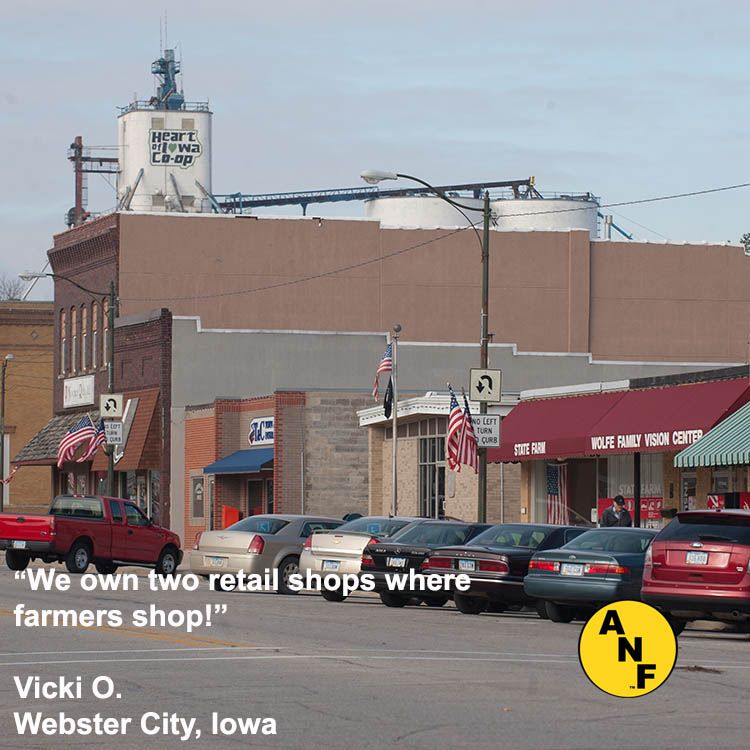 "I teach at a high school in the Quad Cities where many of the students come from farms or their parents work for John Deere or Tyson. Farming is the driving force of Iowa's and Illinois' economy."
Kent B.
Bettendorf, Iowa
"Farmers were the primary reason for my father's and mother's business success. I grew up in a small town of 100 people in southwest Iowa. My father owned three lumberyards and a concrete company. Farmers were my dad's primary customers, friends and community leaders."
Ross S.
Omaha, Nebraska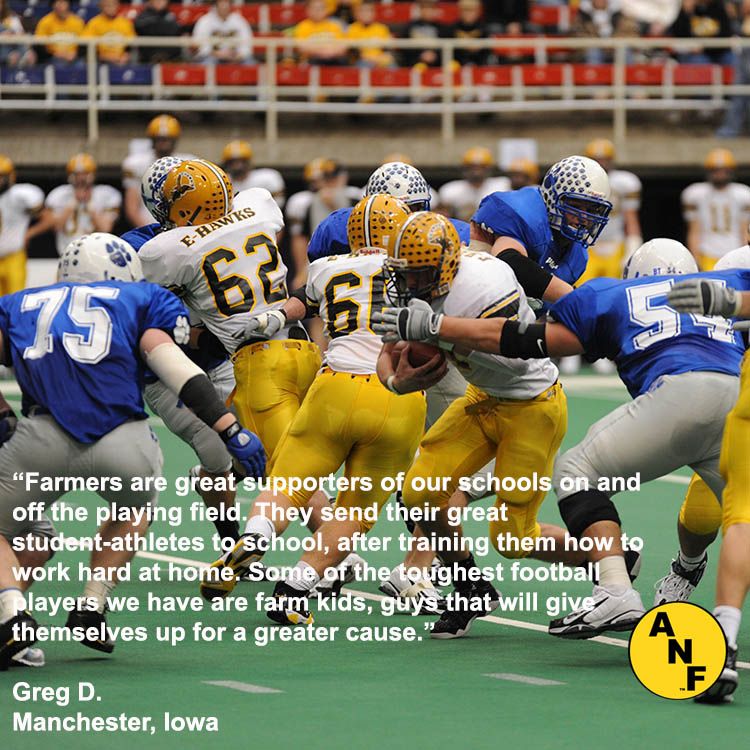 1. We need farm values.
"I need farmers because I need my family. My family's farm has been in the family since 1854. Farmers care for the land and the animals on that land while supplying safe and affordable food to our country and the rest of the world."
Jennifer W.
South England, Iowa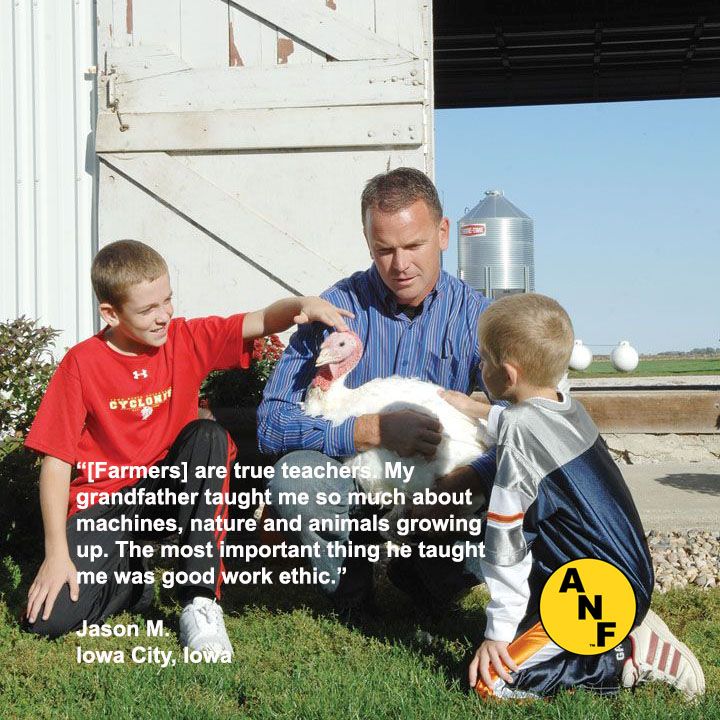 "My father is 86 and still farming. Hard to replace that kind of work ethic."
Danny B.
Ankeny, Iowa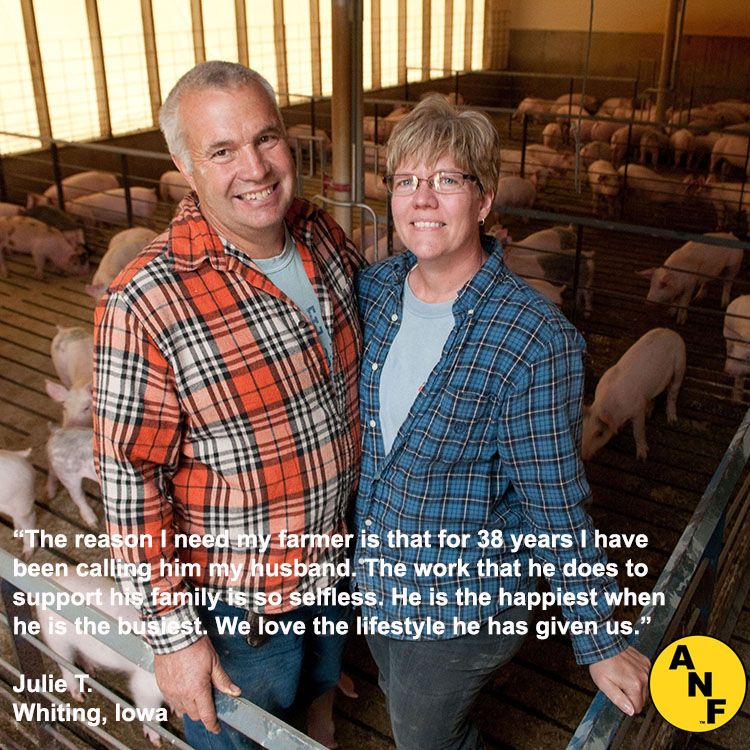 "In my profession I deal directly with farming family children. I truly feel that if we didn't have farmers in our community we would have a great loss to our next generation. Many of these children carry on those great values that have been passed on from one family farm to the next family farm. I've always been impressed with the leadership, work ethic, dependability, pride, commitment, morals, and family values present in our family farmers around our community."
Jay M.
Osage, Iowa
"I need farmers because that's all I knew growing up. To make money I had to go work hay bails, hogs, cattle, and walked beans. I cannot tell you how much that taught me and helped me with work ethic. As I went through the military it was much easier because I knew what hard work was."
Brian W.
Carroll, Iowa
"We need farmers to continue the tradition of hard work, family and friendship. When a neighbor is ill or worse, we all pitch in to get the work done."
Carol K.
Johnston, Iowa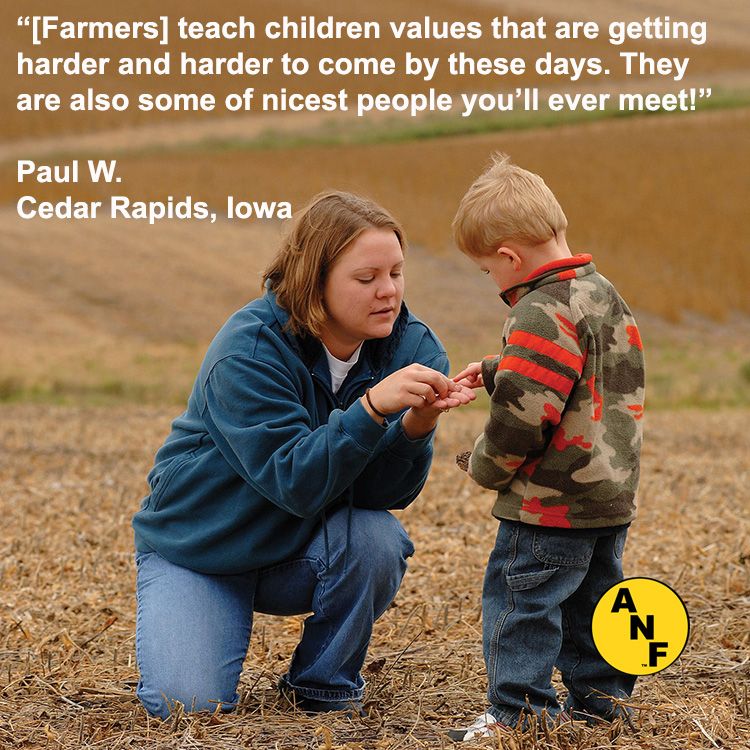 By Zach Bader and the one thousand-plus Americans who shared their reasons for needing farmers (thank you!). Zach is Iowa Farm Bureau's Online Community Manager.