5 Encouraging Water Quality Stats for Iowa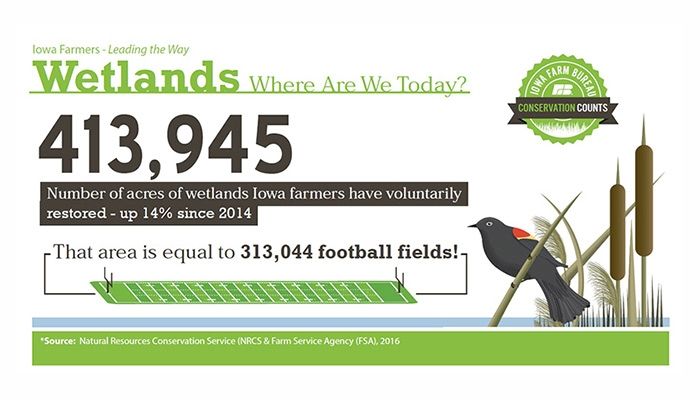 Earth Day was first celebrated 45 years ago. And while Iowa has made significant environmental progress over the past few decades (including tremendous innovation, collaboration, and activity since the adoption of
Iowa's Nutrient Reduction Strategy
in 2013), no one will argue that we have a long way to go before April 22, 2060.
Here a handful of reasons to believe we're heading in the right direction.
Iowa water quality ranking: #1 in buffer strips and conservation tillage, #2 in combined no-till and conservation tillage.
Iowa ranks first nationally in acres devoted to grassy buffer strips along the edges of farm fields (to protect streams from runoff) and conservation tillage (a practice to prevent soil erosion). We also rank second in combined no-till and conservation tillage acres.
Iowa has restored 285,718 "football fields" worth of wetlands.
As of 2015, Iowa farmers have restored at least 377,811 acres of wetlands, up from 361,830 acres in 2014. That's the equivalent of 285,718 football fields. Wetlands help farmers filter nutrients, so they don't reach streams.
Iowa has grown its self-sustaining trout streams nine-fold.
Thirty years ago, Iowa had five streams with self-sustaining trout populations. Today, the Iowa Department of Natural Resources (DNR) counts 45.
Farmers are saving truckloads of soil.
Soil erosion has been trending lower for decades, thanks to a variety of practices implemented in Iowa's fields. From 1982-2010 (the most recent information available), Iowa's soil erosion went down 28 percent. Of course, that doesn't even factor in progress that's been made in recent years. Farmers' work through the Iowa soil conservation cost share program alone saves enough soil to fill 26,000 (15-ton) dump trucks per year.
Cover crops go from (virtually) zero to 21-23 (percent).
Iowa's Nutrient Reduction Strategy has illuminated the tremendous potential of cover crops (planted in fields to hold soil and nutrients in place in the winter and early spring – before corn and soybeans are planted), and farmers have jumped at the opportunity to try them in their fields.
According to Sarah Carlson of Practical Farmers of Iowa, Iowa had roughly 10,000 acres of cover crops in 2009. That number swelled to 300,000 acres in four short years. And according to two recent surveys, roughly 21-23 percent of Iowa farmers use cover crops today.
The progress and ongoing challenge are both clear, and the only acceptable direction to move is forward. Fortunately, Iowa farmers have demonstrated their commitment to continuous improvement time and time again. Armed with new science and research-based conservation practices through the Nutrient Reduction Strategy, there's no telling how much progress we can make over the next 45 years.
Learn more about Iowa's encouraging conservation progress and ongoing efforts to protect Iowa water quality at
www.conservationcountsiowa.com
.
By Zach Bader. Zach is Iowa Farm Bureau's Online Community Manager.