2014 America Needs Farmers Wall of Honor Selection: Bruce Nelson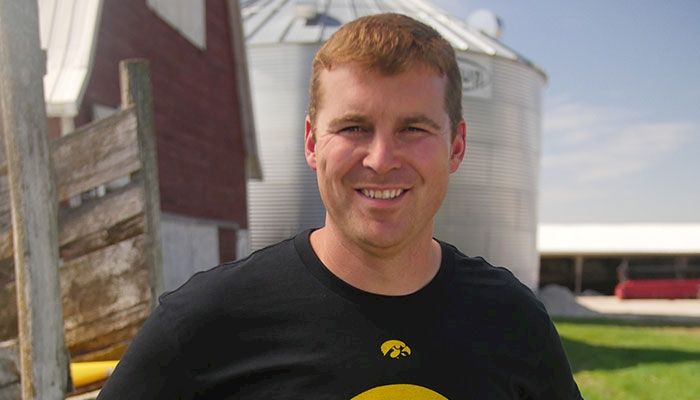 Bruce Nelson is the 2014 America Needs Farmer Wall of Honor selection. The ANF Wall of Honor salutes former University of Iowa football student-athletes who exemplify the tenacity, work ethic, and character of the Iowa farmer, qualities that have helped Iowa remain the leading agriculture state in the nation.

The UI Athletics Department partners with the Iowa Farm Bureau on the ANF Wall of Honor inside ANF Plaza at historic Kinnick Stadium and the promotion of ANF locally, regionally, and nationally.

Nelson was a first-team All-America center in 2002 when Iowa shared the Big Ten Conference championship and advanced to the 2003 FedEx Orange Bowl.

A native of Emmetsburg, Iowa, Nelson was a four-time letterwinner for the Hawkeyes beginning in 1999, a period that saw Iowa advance from one victory in the 1999 season to 11 victories and a perfect 8-0 record in Big Ten play in 2002.

He was a captain of that championship team and also earned first team All-Big Ten honors at the end of that campaign. Nelson was selected by the Carolina Panthers in the second round of the 2003 NFL Draft and played professionally for two seasons before being sidelined by injury.

Nelson, who was also a three-time academic All-Big Ten honoree and currently farms in Emmetsburg, will be the third former Hawkeye named to the ANF Wall of Honor. His name will be added to the plaque inside ANF Plaza located in the northwest corner of historic Kinnick Stadium, alongside that of Casey Wiegmann and Jared DeVries, a pair of Hawkeyes who came to the University of Iowa as graduates of Aplington-Parkersburg High School. That plaque rests next to another that tells the story of ANF and the importance of farming, not only in the state of Iowa, but nationally.

Nelson will make his first public appearance as the 2014 ANF Wall of Honor honoree Saturday, Aug. 9, when he participates in the Governor's Charity Steer Show at the 2014 Iowa State Fair at 4 p.m. in the Pioneer Livestock Pavilion.

The History of ANF
It was 1985 and Hayden Fry, the Hawkeyes' head coach was making good on his promise to deliver a winning football team.

As bright as that year was for Hawkeye fans who came from towns and cities to fill the stadium, it wasn't as bright for Iowa's other diehard fans; those who came from farms.

Iowa's farmers - a cornerstone of Iowa, its way of life, and a significant economic engine for the state - were in the grip of the worst farm crisis the nation had seen. Numerous farmers working land that had been passed on to them for generations, were forced to sell.

According to Emmanuel Melicher, a senior economist for the U.S. Federal Reserve, more than one-third of America's commercial farmers were in grave financial trouble. Before the Farm Crisis hit in 1985 ,Iowa was home to 121,000 family farms. Nearly 20,000 went under by the time it ended.

Never one to accept defeat, Fry quietly went to work on another game plan to raise awareness of farmers who were struggling.

He developed a simple but powerful message to support Iowa farmers; a message that would be delivered on a national stage by his winning team.

When Fry's squad traveled to Ohio State, something new was noticed on its gameday helmet: A yellow circle, 2 ½ inches wide, with the letters "A-N-F" positioned immediately above the Tigerhawk on the right side. It stood for America Needs Farmers. In that moment, and the many games, many players, and many wins that followed, it remains a testament to the men and women who proudly give their all to provide the nation's diverse food supply.