2 Important Things I Learned About Dietitians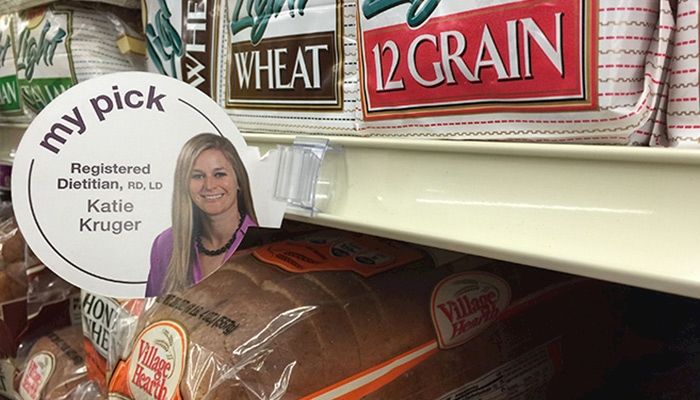 I have never approached a grocery store dietitian for advice.
It doesn't make much sense because I'm definitely interested in (although not always committed to) healthy eating. I understand they provide expert nutrition advice, surveys show they're well trusted by Iowans, and they're advertised in practically every Hy-Vee I visit.
Still, I've never bothered to schedule a meeting or subscribe for information.
I could attribute my lack of follow-through to a lot of things, but I think it starts with an unconscious assumption I've made that I already know (generally) what I'm going to hear.
That's my first mistake, and I should know better.
It's the same passive resistance today's farmers sometimes encounter when they try to help us understand why they've adopted genetically modified seeds, why they're raising more animals today, why they raise those animals in modern barns, or why they choose to administer certain medication.
People seem to "know" that big farms and certain technology are bad, just as surely as they "know" that they only need to eat less to become more healthy.
A couple weeks ago, I had an opportunity to spend some time at the 2014 Annual Meeting of the Iowa Academy of Nutrition and Dietetics (an organization with 800-plus dietitian members).
What I learned about dietitians in a few short hours reminded me of the things I don't know and nudged me to become a bit more active in seeking out information:
1) They really dig science and technology.
GMOs, sustainability, nutrition informatics, and wellness smart phone apps.
How's that for a geeky agenda? :)
And those were just the topics covered before lunch on day two of the meeting.
I walked away from the experience with a new app to explore (RD Alicia Vance Aguiar recommended
Fooducate
, a food scanner and diet tracker with "sound dietitian advice"), as well as some insights from Martina Newell-McGloughlin (Director of International Biotechnology at the University of California, Davis) about the proven safety and potential nutritional benefits of GMOs:
Dr. Newell-McGloughlin: Here's some of the proof that #gmos are safe. #iand2014 pic.twitter.com/TFegv37xBD

— Sara Payne (@IowaFarmBureau) November 6, 2014
Dr. Newell-McGloughlin : Here are some nutritional benefits of #gmos (a couple to be approved soon)... #iand2014 pic.twitter.com/PDv4dGXEr7

— Sara Payne (@IowaFarmBureau) November 6, 2014
More importantly, I left with the impression that dietitians aren't resting on what they already know.
They're continually mastering their own areas of expertise, and they're seeking out outside expertise on topics that they may be less familiar with (such as biotechnology).
The nutrition experts are still learning, so clearly there's plenty for me to learn from them.
2) They're practical.
If dietitians are conspiring to feed us nothing but spinach and broccoli, they didn't let on.
In fact, I heard a lot of discussion about easy substitutes, small health and budget conscious changes, and simple snacks.
And while fruits and veggies were a common refrain, most seemed cool with organic and conventional produce and allowing people to make that choice on their own:
Whether you use food that is grown conventionally, grown with biotechnology or grown organically, choose what works for YOU! #IAND2014

— Korie Lown, RD (@KorieLown) November 6, 2014
Whether organic or conventional, this RD says health benefits outweigh any risk. Food for thought! #IAND2014

— Alyssa - MS, RD, LD (@Alyssa_RD) November 6, 2014
Great point.. What's important is we eat more fruits and veggies. Organic or conventional both safe and healthy #IAND2014 @Fruits_Veggies

— Nikki Stahr RD LD (@mamanikrd) November 6, 2014
They're also a friendly bunch (thanks
Anne
and Bridget for inviting me to the meeting), so there's really no good excuse for me to hold out any longer...
It's time for me to get off the sidelines and see what I can learn, and (whether it's learning more about your nutrition or the farmers who provide your food) I hope you'll do the same!
By Zach Bader. Zach is Iowa Farm Bureau's Online Community Manager.