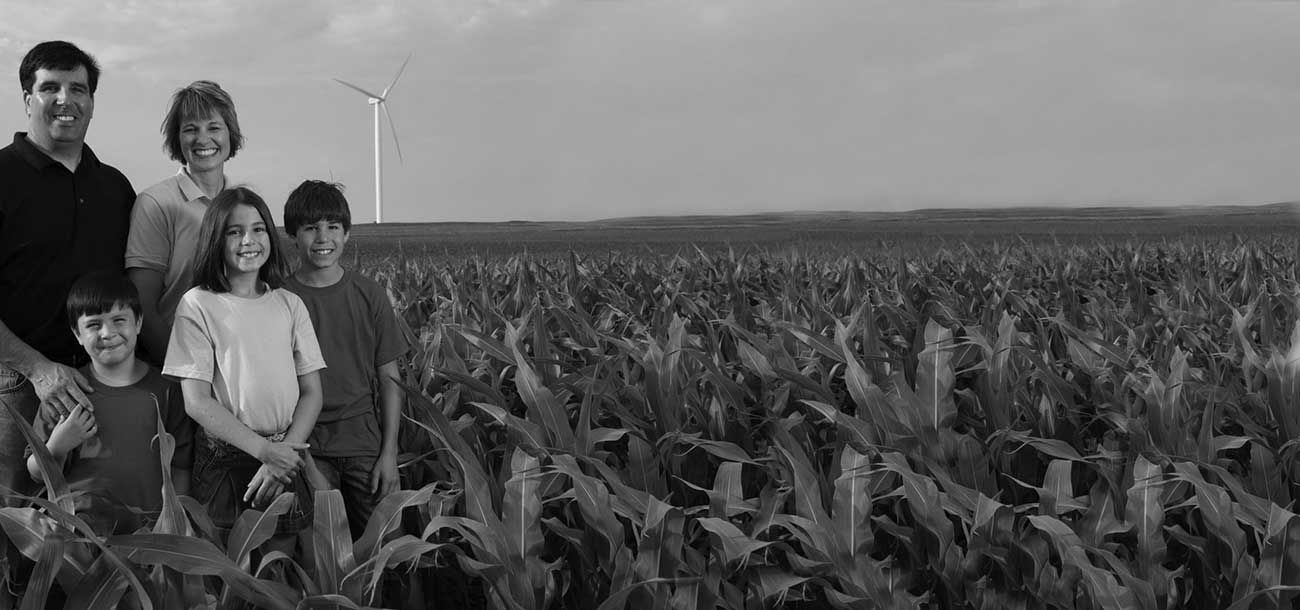 2001 – 2018
Scroll Down
2002
- Iowa Farm Bureau begins sponsoring IHSAA, IGHSAU.
In 2002, Iowa Farm Bureau began its sponsorship of the Iowa High School Athletic Association, the Iowa Girls High School Athletic Union, the Governor's Scholar recognition program, and the Iowa Hall of Pride.
2004
- Farm groups unite for livestock.
The beginning of the new century saw an increase of activist attention on the livestock industry.
In 2004, Iowa Farm Bureau spearheaded a collaborative effort to create an organization that would help livestock farmers navigate the maze of state and federal regulations, provide building site analysis, consult on safeguarding the environment, and enhancing neighbor relations. The organization (the Coalition to Support Iowa's Farmers) was supported by the Iowa Corn Growers Association, Iowa Soybean Association, Iowa Pork Producers, Iowa Cattlemen's Association, Iowa Farm Bureau, and the Iowa Egg Council. Today, the Midwest Dairy and the Iowa Turkey Federation are part of the organization as well.
As of 2017, the Coalition has served more than 4,100 farm families.
2005
- Farm Bureau helps Iowa harness its wind power.
In 2005, Iowa Farm Bureau partnered with John Deere and others to host meetings around the state, providing information to farmers who were interested in locally-owned wind farms. Farm Bureau also provided a free online tool that allowed Iowa farmers to assess their wind capacity and grants for local wind projects to help diversify their farms. As of 2017, farmers help Iowa generate more than 35 percent of its electricity from wind - the best in the nation.
2006
- Farm Bureau protects property rights, creates program to renew rural communities.
In 2006, Iowa Farm Bureau worked to pass eminent domain legislation that protects private property rights, overriding a Governor veto.
Also in 2006, Iowa Farm Bureau created a new program – Renew Rural Iowa – to help entrepreneurs and businesses in rural Iowa. In its first decade, Renew Rural Iowa mentored more than 3,000 Iowans and created $125 million in economic impact for rural Iowa.
2007
- Farm Bureau helps pass School Infrastructure Sales Tax, spearheads building of the nation's first renewable energy chopper.
In 2007, Iowa Farm Bureau worked with the state legislature to pass the School Infrastructure Sales Tax, to equalize distribution of taxes collected to help rural schools.
That same year, Iowa Farm Bureau also launched "Join the Ride," a campaign that put a national spotlight on Iowa's leadership role in renewable energy and its connection to Iowa agriculture. As part of the campaign, Farm Bureau commissioned Orange County Choppers from Discovery Channel's popular "American Chopper" TV series to build the nation's first renewable energy chopper, which ran on E-85 fuel. The Discovery Channel aired an entire episode about the chopper - and Iowa agriculture - to a national audience.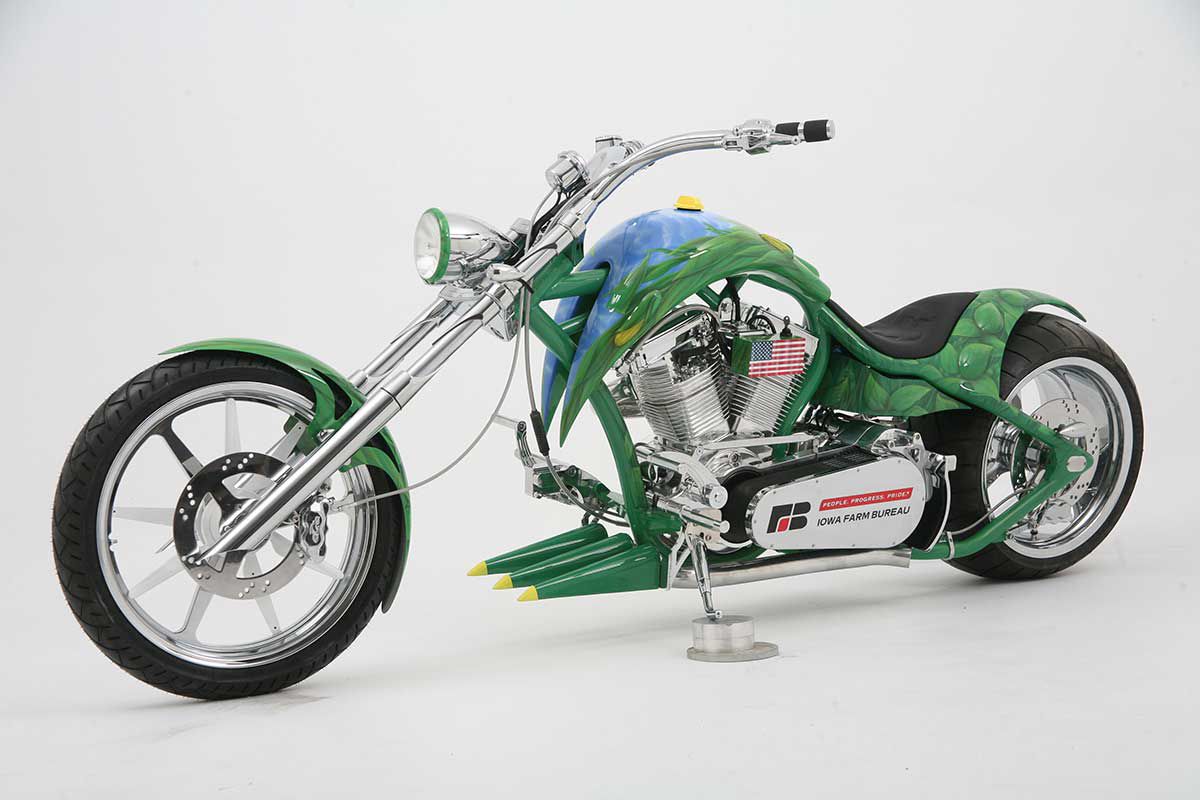 2010
- Iowa Hawkeyes, Iowa State Cyclones, Farm Bureau partner to celebrate farm families.
In 1985, the Iowa Hawkeye football team (led by Hall of Fame coach Hayden Fry) began wearing "ANF" decals on their helmets (standing for "America Needs Farmers") to show support for farm families struggling through the 1980s Farm Crisis.
In 2010, Farm Bureau partnered with the Iowa Hawkeyes to revive and elevate ANF, creating ANF apparel (with a portion of proceeds benefiting Iowa's food banks), an annual ANF Game Day at Kinnick Stadium, an ANF Wall of Honor (featuring former Hawkeye and NFL greats who embody the tenacity and work ethic of the American farmer), and more.
In 2013, Farm Bureau began a similar Farm Strong partnership with the Iowa State Cyclones, helping connect fans to the farmers who grow and raise their food.
Together, the ANF and Farm Strong partnerships have helped generate $161,045 in donations for Iowa's food banks, as of 2017.
2013
- Take Root, Iowa Farm Animal Care and Iowa Water Quality Initiative emerge.
2013 ushered in the creation of a program to help Iowa families preserve their farms for generations, a coalition to answer Iowans' questions about farm animal care, and a collaborative, research-based plan to protect Iowa's water.
Iowa Farm Bureau created Take Root to help Iowa farm families keep the family farming for generations to come. This program was in direct response to farm families asking for help with transitioning from one generation to the next. As of 2017, nearly 5,000 farmers have received assistance through the program.
Farm Bureau also helped spearhead Iowa Farm Animal Care, a collaborative effort with the Iowa Pork Producers, in cooperation with the Iowa State University (ISU) College of Veterinary Medicine, ISU College of Agriculture and Life Sciences, Iowa Board of Veterinary Medicine, the Iowa Department of Agriculture and Land Stewardship, the Iowa State Sheriffs' and Deputies' Association and the Animal Rescue League of Iowa. This first-of-its-kind network of professionals, veterinarians, animal behavior scientists and farmers is committed to addressing Iowans' questions about farm animal care.
Finally, Farm Bureau played an important role in launching the Iowa Water Quality Initiative (also known as the Iowa Nutrient Reduction Strategy). Researchers at Iowa State University, the Iowa Department of Agriculture and Land Stewardship, and the Iowa Department of Natural Resources developed this collaborative, research-based plan to conserve Iowa's soil and protect water quality. The plan was first funded by the Iowa Legislature in 2013 and was supported by Farm Bureau.
2014
- Iowa Ag Literacy Foundation creates centralized resource to increase knowledge, awareness of today's agriculture.
In 2014, a new statewide organization was launched to help Iowans understand more about how and where their food and fuel is produced. The Iowa Agriculture Literacy Foundation (IALF), with a primary focus on youth, is a collaboration of business, education and the agriculture industry to promote agriculture literacy and its global significance in Iowa schools.
2015
- Road use tax increased to repair Iowa's crumbling roads and bridges.
Iowa Farm Bureau and its members have long advocated for adequate funding to maintain Iowa's roads and bridges. By 2015, Iowa had more than 5,000 structurally deficient bridges and 13 percent of Iowa's rural roads were in poor condition, with 45 percent in mediocre to fair shape. In 2015, at Farm Bureau's urging, the state legislature passed an increase in constitutionally-protected road funding.
2017
- Iowa Farm Bureau receives fourth consecutive Pinnacle Award.
In 2017, for the fourth straight year, Iowa Farm Bureau received the Pinnacle Award (the top award AFBF bestows to state Farm Bureaus), a testament to the organization's grassroots process, membership, and successful programs.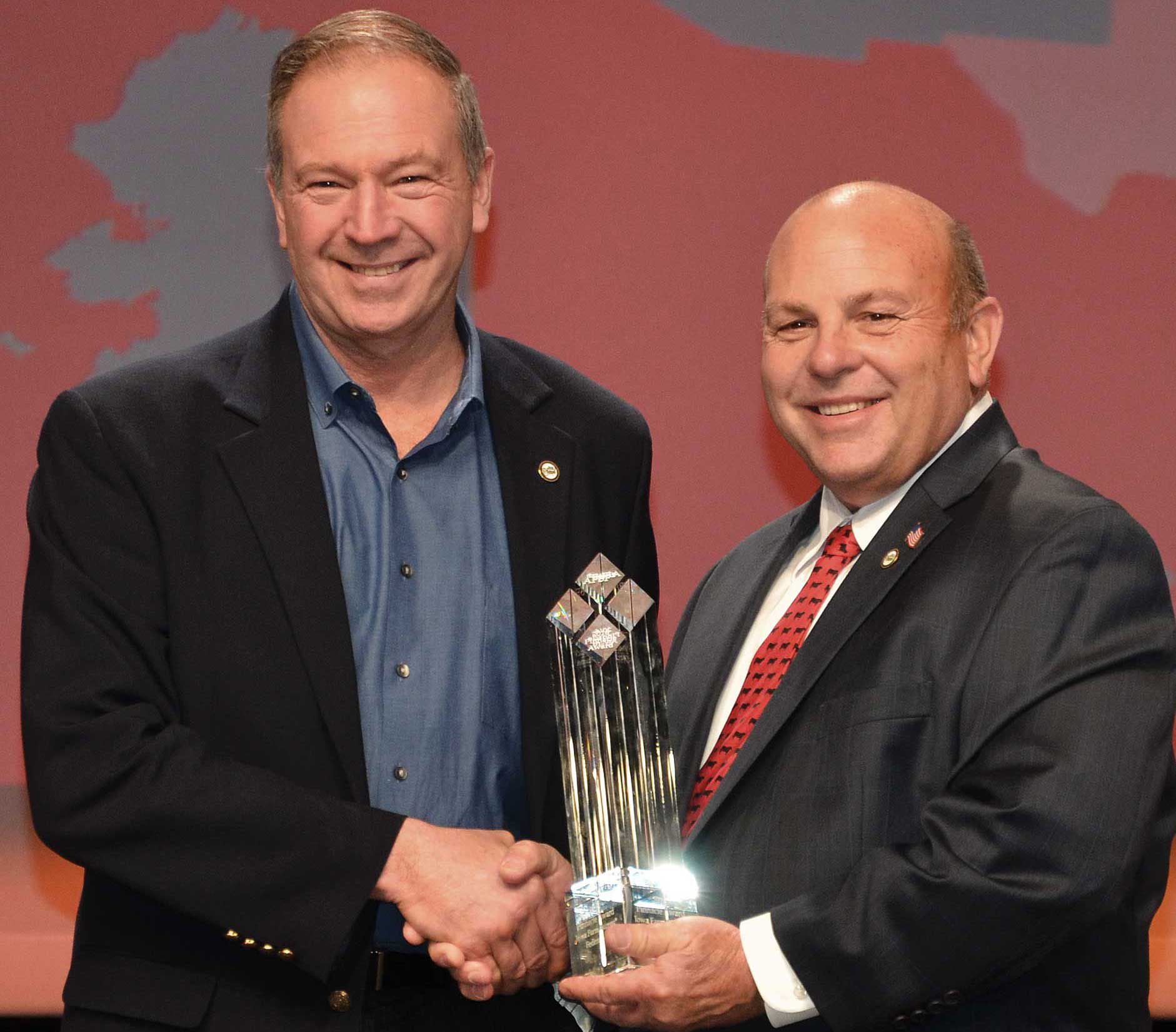 2018
- Governor, legislature call on Iowa Farm Bureau to partner with Wellmark, develop an affordable health care option for Iowans. Iowa entrepreneurs win Entrepreneur of the Year award for the third time in four years.
According to reports from the Iowa Insurance Division, more than 20,000 Iowans could not afford to keep their health care coverage in 2018 because they didn't qualify for Affordable Care Act (ACA) subsidies. In response, the Iowa legislature and Governor Kim Reynolds passed a bi-partisan bill calling on Iowa Farm Bureau and Wellmark to partner and develop an affordable health care option for Iowans.
Also in 2018, SwineTech (an Oskaloosa-based startup that has developed technology to help save piglets' lives) became the third Iowa-based company to win American Farm Bureau's fourth annual national Rural Entrepreneurship Challenge. All three winning Iowa companies have received assistance through Renew Rural Iowa, an Iowa Farm Bureau program for rural businesses and entrepreneurs that mentored more than 3,000 Iowans and had a more than $125 milllion economic impact on rural communities in its first decade.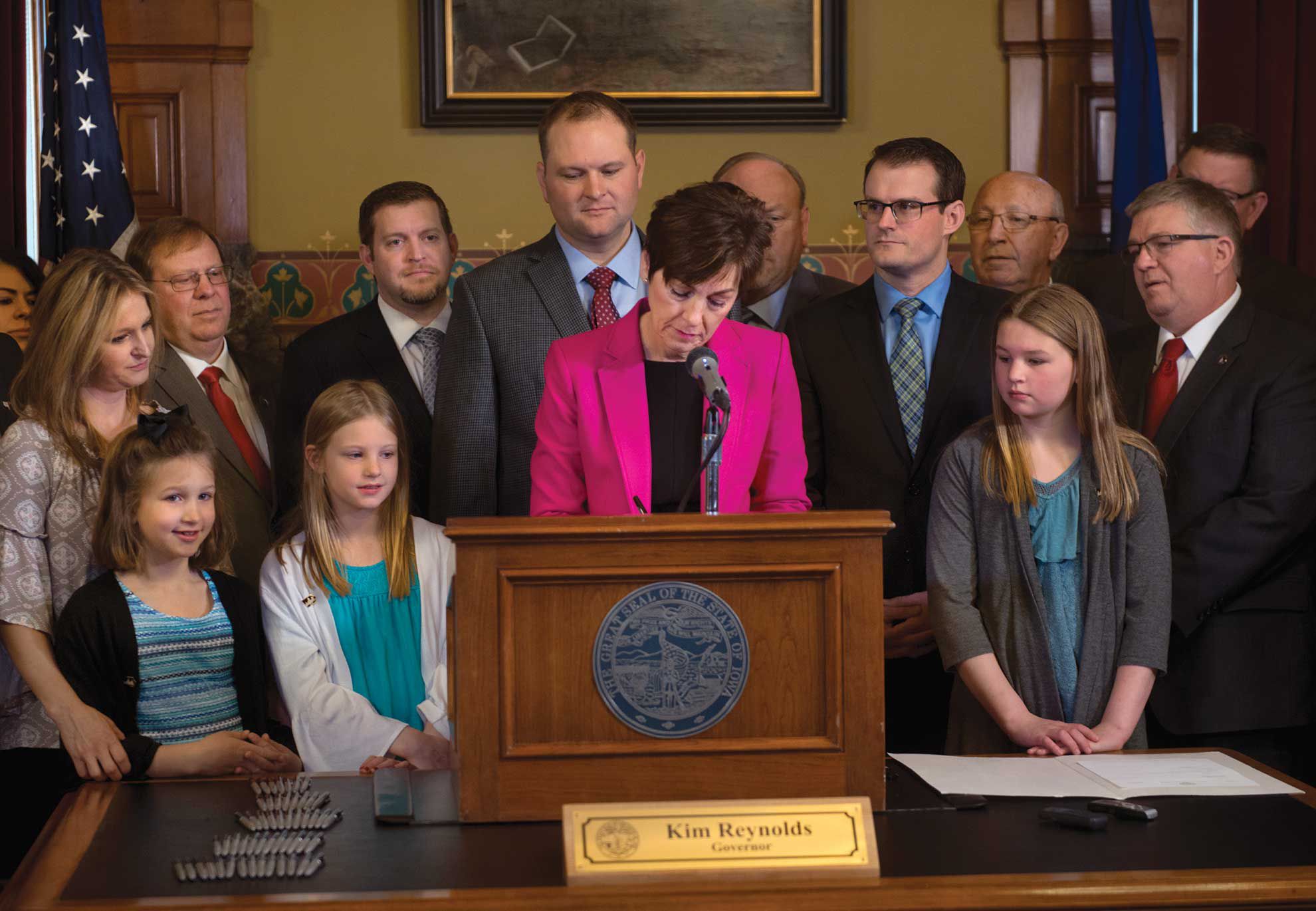 Join Us!
New to Farm Bureau? We want you to be part of our next 100 years! Join Farm Bureau today to support an organization that's creating a vibrant future for agriculture, farm families and their communities.